FLOOD UPDATE: Ready for some good news? As of May 1st, the store and repair shop are almost back to normal! About 80% of the docks are above water. We have some pretty extensive dock repairs ahead of us so if you come out, please be careful and avoid walking on anything that looks unstable. We're working hard to eliminate all remnants of this flood within a couple weeks.

WE STILL HAVE A FEW SLIPS AVAILABLE and SOME WAVE RUNNER (PWC) SHORE PORTS AVAILABLE! Call Rhonda to see what's available for your boat. We're back to normal business hours!!! Tuesday through Sunday, at (847) 587-6222 or send an email to: colmarina@comcast.net.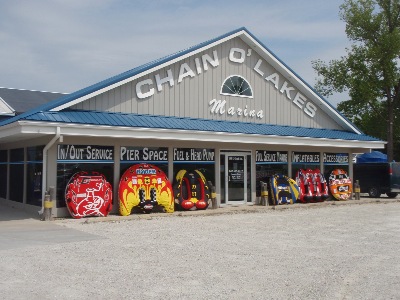 We are a family-owned and operated full service marina located in Fox Lake, IL. We provide:

boat slips in a park-like setting
in/out service
boat repair and maintenance
fuel and pump out service
bottom painting and detailing
summerization and winterization
shrink-wrapping and winter storage
trailer storage
clean, private bathrooms and showers (with locks)
FREE WI-FI internet access
Ship store with inflatables, accessories, supplies & maintenance items
Want to learn more? We'd love to hear from you.

You can call us at: 847-587-6222 or email us at: colmarina@comcast.net. Or, stop by for a visit, we are located at: 500 E. Grand Ave. - Fox Lake, IL 60020.